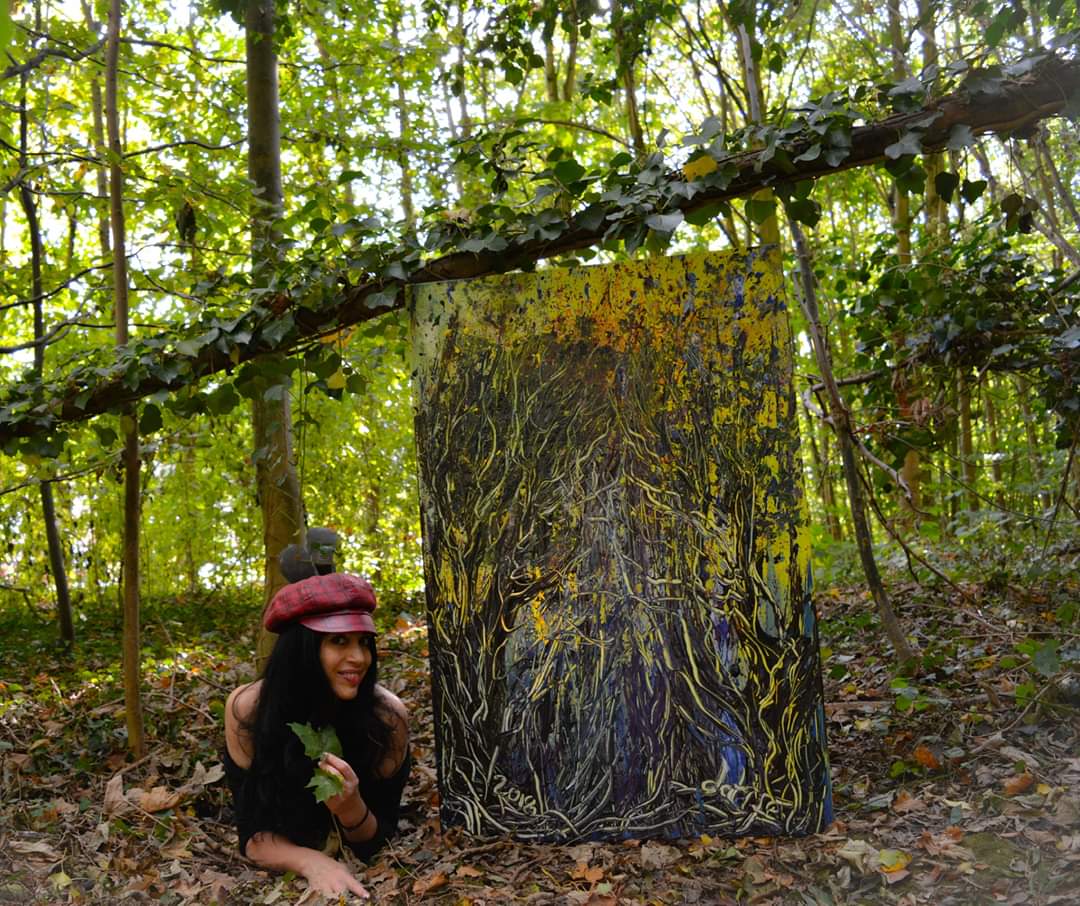 "Painting is what draws me into the here and now, right when I make the first stroke; and while I work it makes me sprout wings, made to take me on an inward journey to capture my outward experiences in colors and forms. It finds a home on canvas and paper that may inspire the viewers to walk in and sprout wings, going on a journey of their own."

-Latife Birenheide
Latifè Birenheide

Artist - Paintress
Brussels
---
About Me
Born in Istanbul/Turkey, I migrated to Germany at the age of five with my family. I grew up in the centre of Germany near Frankfurt/Main, where I finished school and completed an education as a nurse, a profession I occupied for about 15 years, and an experience that still influences my art to this day.
Around 1995, having pursued painting and sculpting since a young age, I decided to devote my professional life to the fine arts fully. Following a productive year, I exhibited my work in a solo exhibition just one year after. This was succeeded by several exhibitions during the following decades. In this time, I collaborated with other artists and started teaching adults and children.
In 2007, I migrated, again, this time to Belgium where I still live and work today.
My main material is acrylic on canvas or paper and aquarelle but also sculpturing, photography and video art. The spectrum of my art reaches from romantic aquarelles to provoking and sociocritical paintings in powerful colours, making use of either figurative or abstract expressions. My inspiration is taken from day-to-day life, embracing and expressing the challenges we are facing every day of our lives.
---
Exhibitions
2023
JUNE/AUGUST - SOLO EXHIBITION GALLERY NANDA, (LOKEREN) BELGIUM (https://www.gallerynanda.com/expo)

APRIL/MAY - SOLO EXHIBITION "HUMAN; NATURE; PEACE" (WEZEMBEEK-OPPEM/BELGIUM), GC DE KAM
2012
ARMAGEDDON (BERLIN/GERMANY), GALLERY MARZIAFROZEN

SYMPHONY OF COLOURS (LONDON/UNITED KINGDOM), LA GALLERIA PALL MALL
2011
BIENNALE OF CHIANCIANO (TUSCANY/ITALY), MUSEUM OF CHIANCIANO
2009
SOLO EXHIBITION / TERVUREN - BELGIUM
2007
RETROSPECTIVE SOLO EXHIBITION / ORGANISED BY THE COMMUNE OF GELNHAUSEN AND THE COUNTY MAIN-KINZIG-KREIS WITH A DUAL EXHIBITION IN THE FORMERLY SYNAGOGUE OF GELNHAUSEN AND THE MAIN-KINZIG-FORUM
2006
EXHIBITION OF STUDENTS OF THE PAINTRESS / 'ALTSTADTCAFÉ' WÄCHTERSBACH

SOLO EXHIBITION 'MOMENTS' / CLINIC FULDA

SOLO EXHIBITION / 'GALLERY AM MICHEL' HAMBURG
2005
GROUP EXHIBITION OF THE PAINTRESS AND HER STUDENTS / 'ALTSTADTCAFÉ' WÄCHTERSBACH
2004
SOLO EXHIBITION / LINDNER CONGRESS HOTEL FRANKFURT

SOLO EXHIBITION / KREISSPARKASSE GELNHAUSEN

PROJECT 'PAINTING WITH ALL SENSES' / PRIMARY SCHOOL BIEBERGEMÜND-WIRTHEIM
2003
SOLO EXHIBITION / FORMERLY SYNAGOGUE GELNHAUSEN
2002
GROUP EXHIBITION / 'CULTURE DAYS' OF THE COMMUNE GELNHAUSEN-MEERHOLZ

GROUP EXHIBITION / 'CULTURE DAYS' OF THE COMMUNE LANGENSELBOLD
2001
SOLO EXHIBITION / RESTAURANT 'VLADAN´S' IN LANGENSELBOLD

SOLO EXHIBITION / 'CAFÉ ART' IN GELNHAUSEN
2000
SOLO EXHIBITION 'EMOTIONS IN COLOUR AND FORM' / FORMERLY SYNAGOGUE GELNHAUSEN
1999
FRONT DESIGN OF A WENDY-HOUSE / PRIMARY SCHOOL ALTENMITTLAU

SOLO EXHIBITION / PHARMACY PETRI IN MEERHOLZ

GROUP EXHIBITION / 'CAFÉ ART' IN GELNHAUSEN

GROUP EXHIBITION / 'STATTGALERIE' GELNHAUSEN
1997
GROUP EXHIBITION / BAD VILBEL
1996
SOLO EXHIBITION / FORMERLY SYNAGOGUE GELNHAUSEN